A devilish combination of pumpkin pie and creamy cheesecake. I love how the subtle flavors of fall gently spice this decadent dessert. I thought I should sneak in one last effort before we wrap up our #squashlove blog hop.
The base of this recipe is Martha Stewart's which I've adapted and made my own. For the crust, I've used wholewheat digestive biscuits with a spoon of butter and brown sugar. As a rule (and these are just my own silly shenanigans) in every cheesecake I bake, I always add a hint of cinnamon to my crust. For the filling, I've used homemade pumpkin puree and homemade pumpkin pie spice mix (post coming soon!) Flour has ben entirely avoided and the biggest change from the base recipe are the temperature and method of baking. This cheesecake has been baked in a bain marie (aka water bath). Not only does it heat the oven in a controlled manner but 9 out of 10 times you will not have a cheesecake with imperfections such as surface fractures. Baking a cheesecake is not difficult, nothing more than a quick assembling and mixing of minimal ingredients but these little tips can make you pro in no time!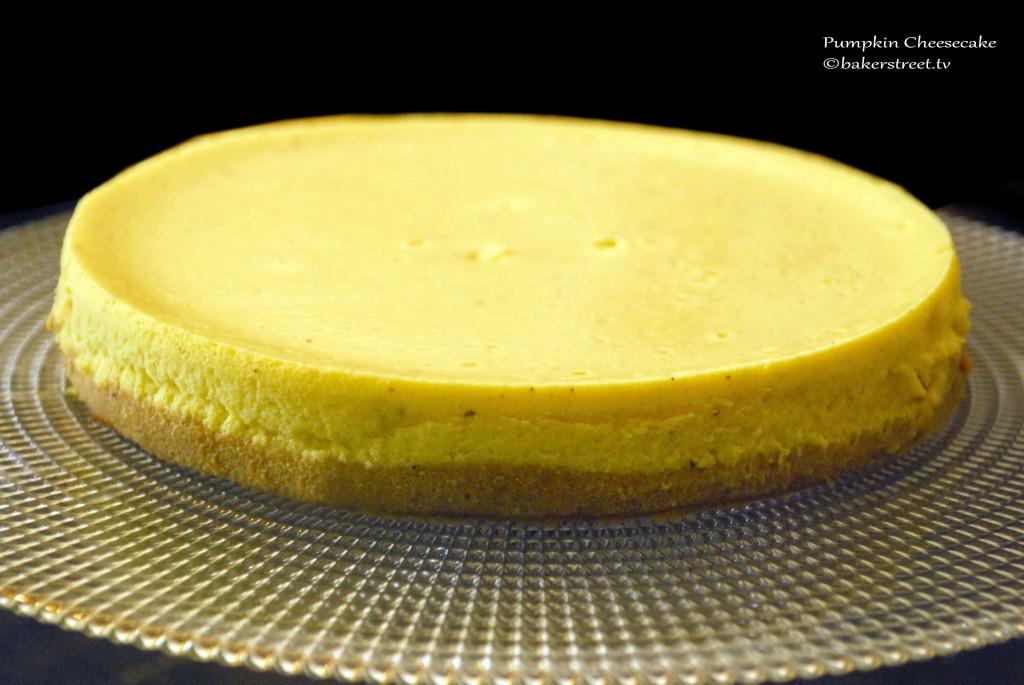 Here are some tips  you can keep in mind before baking a cheesecake:
– Preheat your oven and let it first reach the desired temperature
– Ensure all ingredients are measured accurately and at room temperature
– Resist – no – DO NOT open the oven door during baking
– Ensure the bain marie or water bath is warm
– Mixing is key and after you have beaten the sugar and cream cheese, you may use a wooden spoon to do the rest. You do not want to over work the batter. Over-beating incorporates additional air which tends to cause cracks and fissures and yields a dry texture
– Once out the over, let it cool down completely before taking out of the springform pan
– The best test to determine the 'doneness' is to insert a wooden toothpick in the center and check if it's come out 'clean'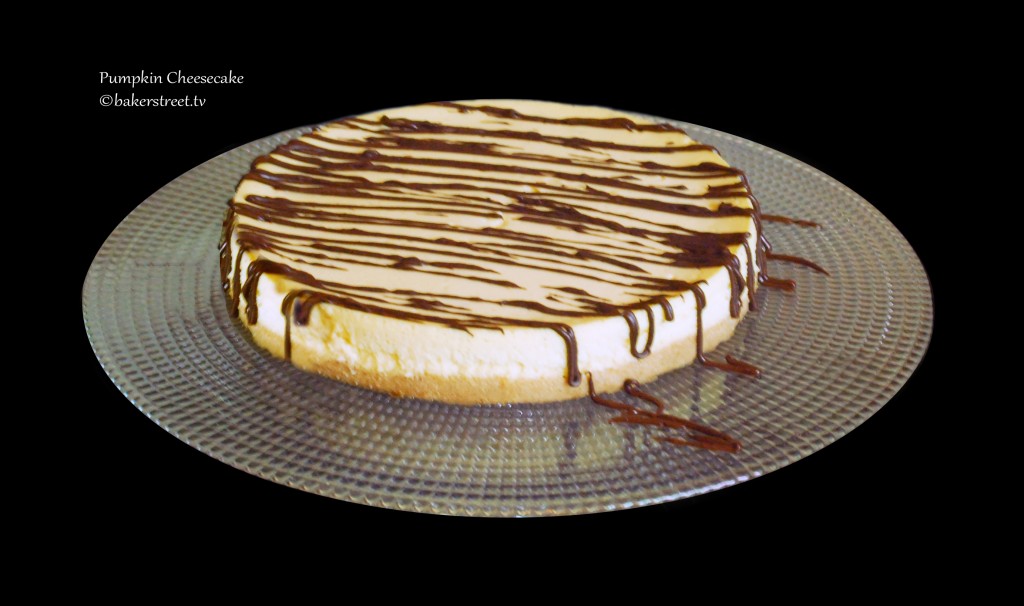 Don't be afraid to pick up your beater and bake one right away. These tips is my from my very little experience and the few cheesecakes I've baked (okay, maybe a couple hundred.) When I started a few of years ago, my cheesecakes tasted lovely but often looked like earthquake epicenters.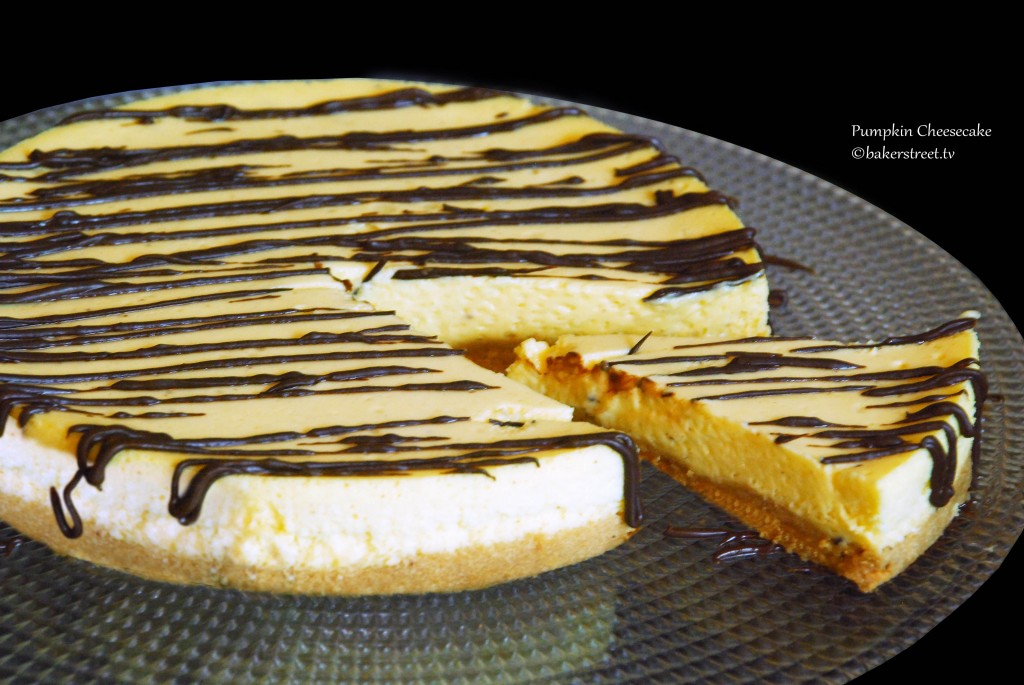 If you're wondering why my cheesecake is so thin, it's because I baked only 1/4th of the quantities indicated in the recipe. Too many desserts lying around the house … is well, not very waistline-friendly.
Author:
adapted from Martha Stewart
Recipe type:
Cheesecake, Dessert
Ingredients
For The Crust
1¼ cups whole wheat digestive biscuits
¼ cup sugar
4 tablespoons unsalted butter, melted
½ teaspoon cinnamon
For The Filling
4 packages (8 ounces each) bar cream cheese, very soft
1¼ cups sugar
3 tablespoons flour (I did not use any flour)
1 cup pumpkin puree (I used homemade)
2 tablespoons pumpkin-pie spice (I used homemade)
1 tablespoon vanilla extract
½ teaspoon salt
4 large eggs, room temperature
Instructions
Preheat oven to 350 degrees, with rack in center. Assemble a 9-inch nonstick springform pan, with the raised side of the bottom part facing up.
Make the crust: In a processor, beat biscuits, sugar, cinnamon and butter until moistened; press firmly into bottom of pan. Bake until golden around edges, 10 to 12 minutes.
Make the filling: With an electric mixer, beat cream cheese and sugar on low speed until smooth; mix in flour (only if you're using. I did not use any. In any case, do not overmix).
Add pumpkin puree, pie spice, vanilla, and salt; mix using a wooden spoon just until smooth.
Add eggs one at a time, mixing until each is incorporated before adding the next. (don't use the beater, use a wooden spoon so that you don't overmix the batter).
Cover the springform pan with foil on all sides (this would prevent from any water entering it once placed in the water bath).
Place springform pan in a bain marie or a water bath. Pour filling into springform, and gently smooth top. Transfer to oven; reduce oven heat to 280F. Bake 45 minutes. Turn off oven; let cheesecake stay in oven 2 hours more (without opening).
Remove from oven; cool completely. Cover with plastic wrap; refrigerate until firm, at least 4 hours. Unmold before serving.
I'll be back with many more flavors, combinations and tips as we go along but in the meantime, go ahead and treat yourself to a slice or two.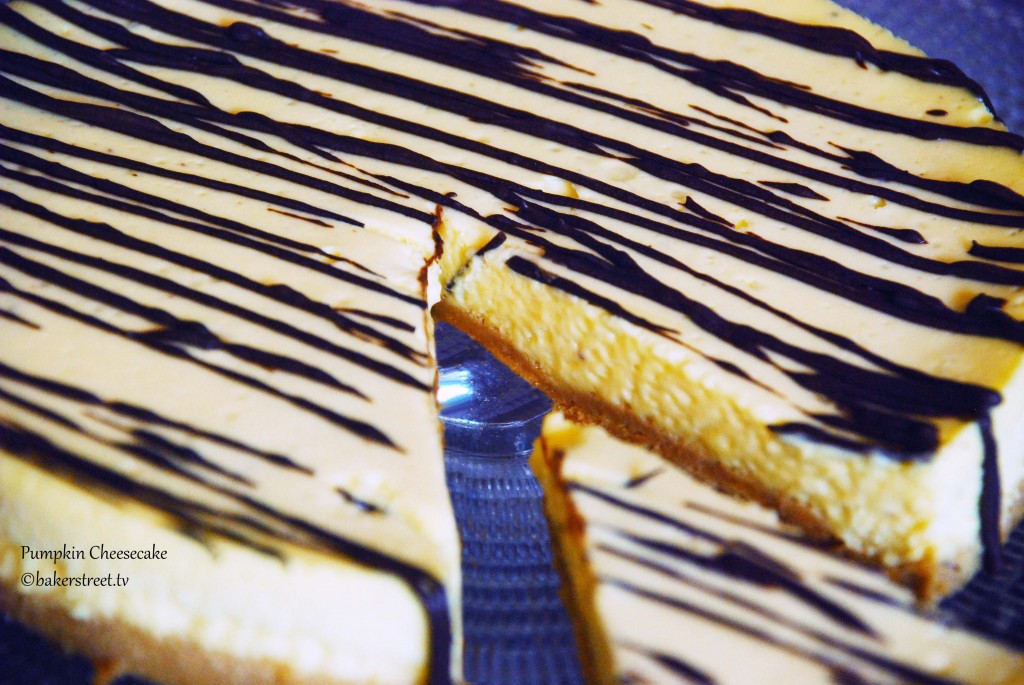 Happy Baking!