It's an exciting month at Baker Street. With promise of more posts, sensational recipes, an exciting blog hop, the holiday muffin monday series, celebrating National Bundt Cake Day and some surprises that I'm not quite ready to reveal just yet; you're in for a thrilling roller coaster ride. So stay tuned, gear up for the holidays, and bake away!
15th November is National Bundt Cake Day and you already know how much I love baking bundts. So I will be taking every chance I get over the next two weeks to share as many bundt cake recipes as I can
On to today's post: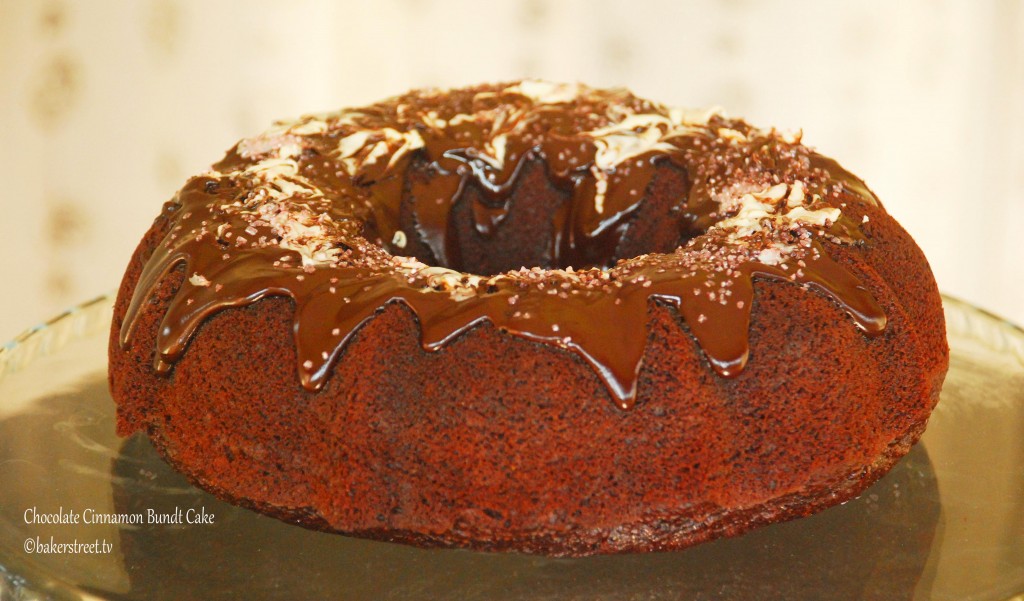 If there is a spice that should be married to chocolate, it has to be cinnamon. They compliment each other perfectly: the warmth of the spice and the richness of dark chocolate combine to make for an aromatic and exquisite tasting dessert.
The cake is dainty: delicate and delicious. And even though you can serve this without a glaze, I went ahead and gave it a nice thick layer or dark chocolate ganache then added spots of white chocolate for a 'marble' effect and rounded off with a sprinkle of pink sugar.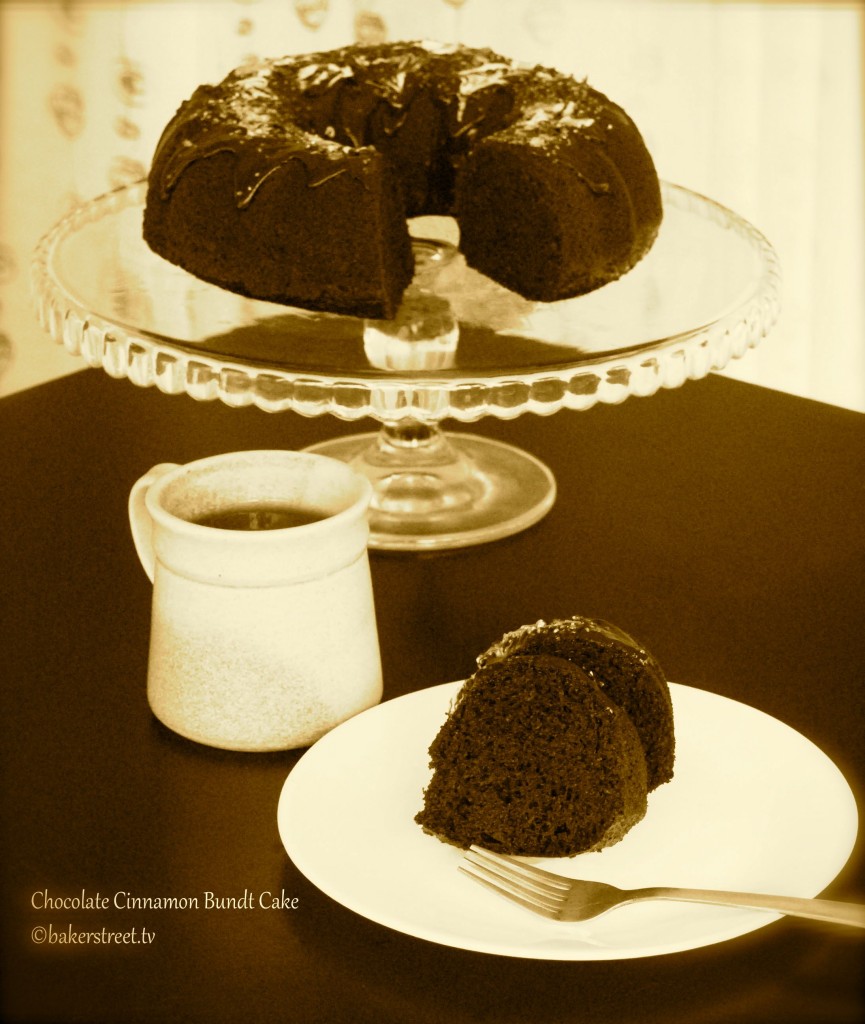 The cake I baked is perfect by itself but am sharing a few optional changes you could make to the recipe.
– A teaspoon of cayenne pepper combined in the dry ingredients to add that extra kick
– If you want it spicy but don't wish to use cayenne pepper, you could also you use the spicy lindt in the ganache
– Add alcohol (my favorite one): Add a chocolate rum glaze. Or you could add two tablespoons of rum in the batter
– Add nuts (not my favorite): You could use pecans, walnuts, hazelnuts or raisins. (You could also soak the raisins in rum overnight)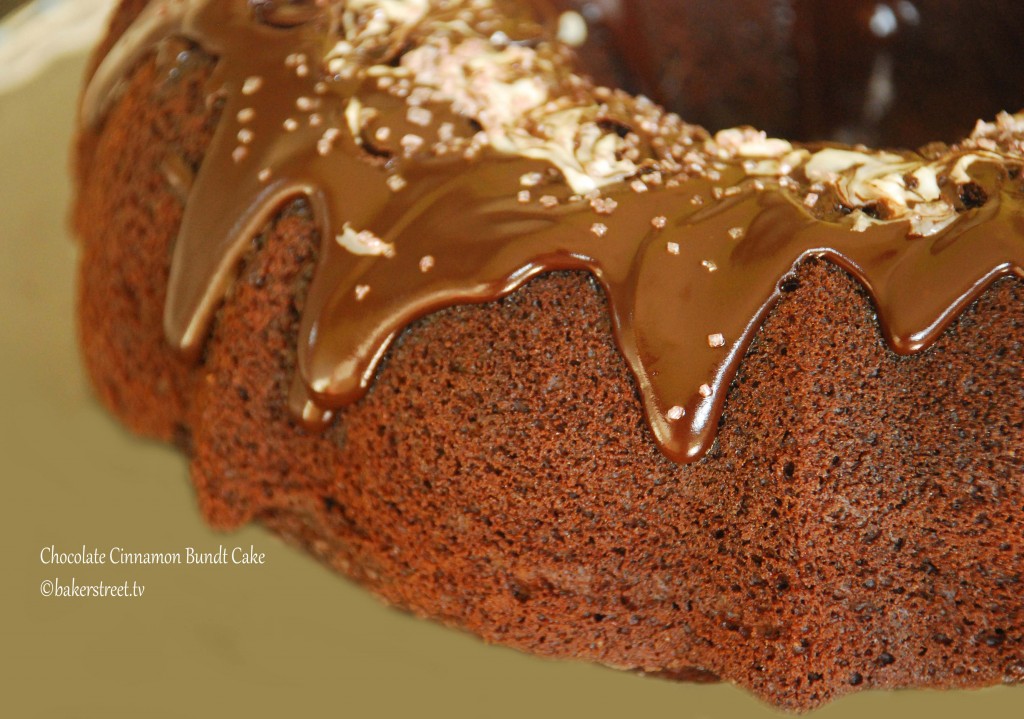 Chocolate Cinnamon Bundt Cake
Author:
Adapted from Vintage Victuals
Recipe type:
Dessert, Cake
Ingredients
½ cup butter
1 cup water
½ cup vegetable oil
5 tablespoons cocoa powder
2 cups flour
2 cups sugar
½ teaspoon salt
½ cup buttermilk
1 teaspoon baking soda
2 eggs, lightly beaten
1½ teaspoons cinnamon
1 teaspoon pure vanilla extract
Instructions
Preheat the oven to 375F.
Grease and flour a 12 cup bundt pan
In a medium saucepan place butter, water, oil, and cocoa. Bring to a boil or until the butter has melted.
Meanwhile, in a large bowl whisk together flour, cinnamon, sugar, and salt in a mixing bowl. Pour the chocolate mixture into the dry ingredients and mix well. (See Note)
Add the buttermilk and baking soda.
In a small bowl, mix together the eggs and vanilla. Add to the chocolate batter. Pour batter into prepared bundt pan.
Bake for 25 – 30 minutes. Allow cake to cool completely in the pan.
Turn over to a serving plate. Glaze as you please or dust with sugar
Notes
Make sure once that you're quick in beating the chocolate mixture with the dry ingredients because the chocolate mixture would be hot and the flour would start cooking if you let it stand.
The possibilities are endless but till I share another post, go ahead and enjoy a slice of this delish cake.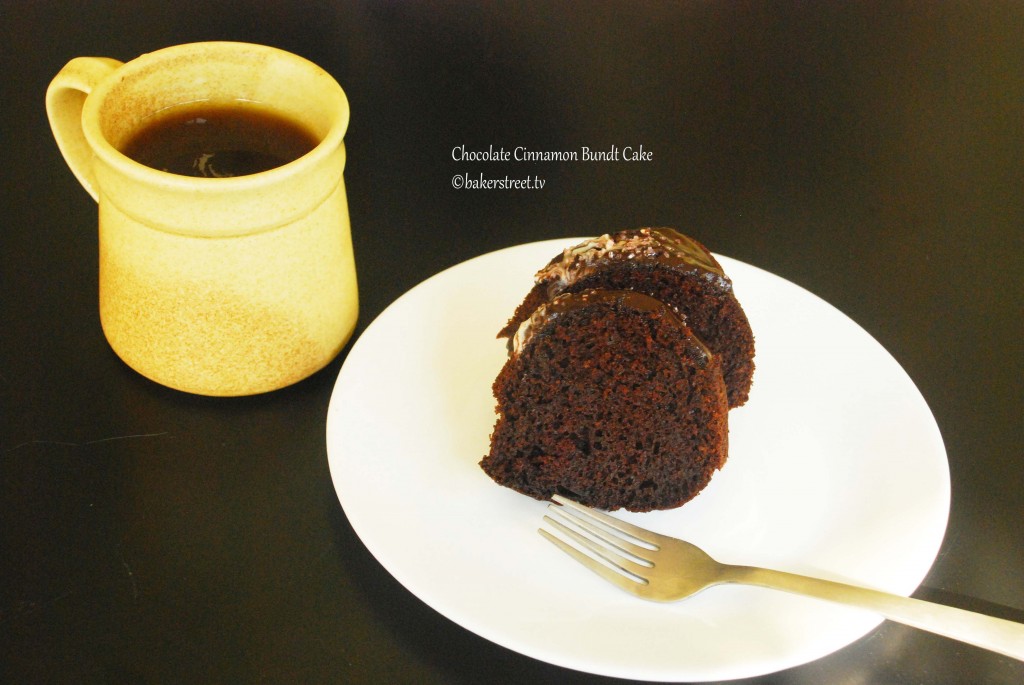 Happy Baking!