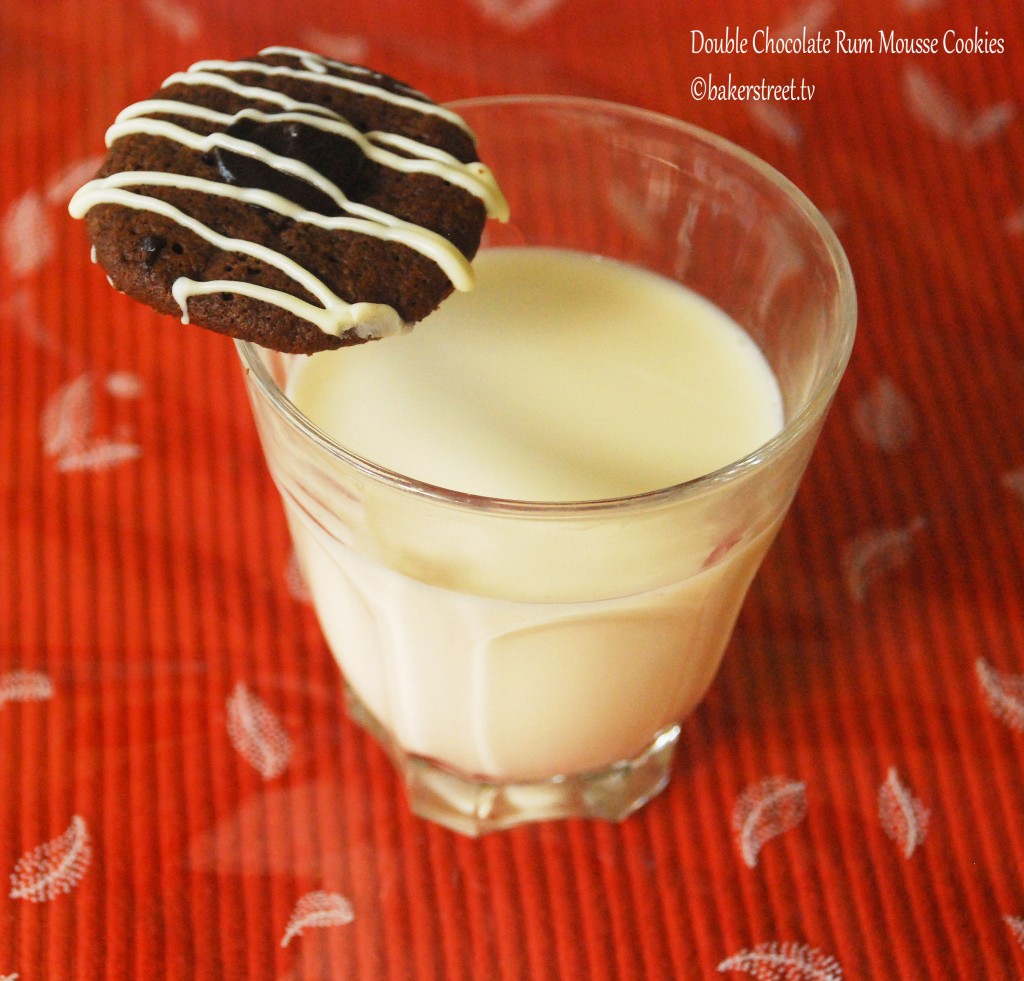 The one thing that must not ever run out in my house is cookies. When a batch is nearing its end, a very serious discussion of what should be baked next starts brewing. Opinions are divided. He'll want a regular favorite, I want to experiment. Needless to say, the talk is academic. It is of course I who gets to decide.
To replenish the cookie jar, I'm baking these simple-to-make double chocolate rum mousse cookies.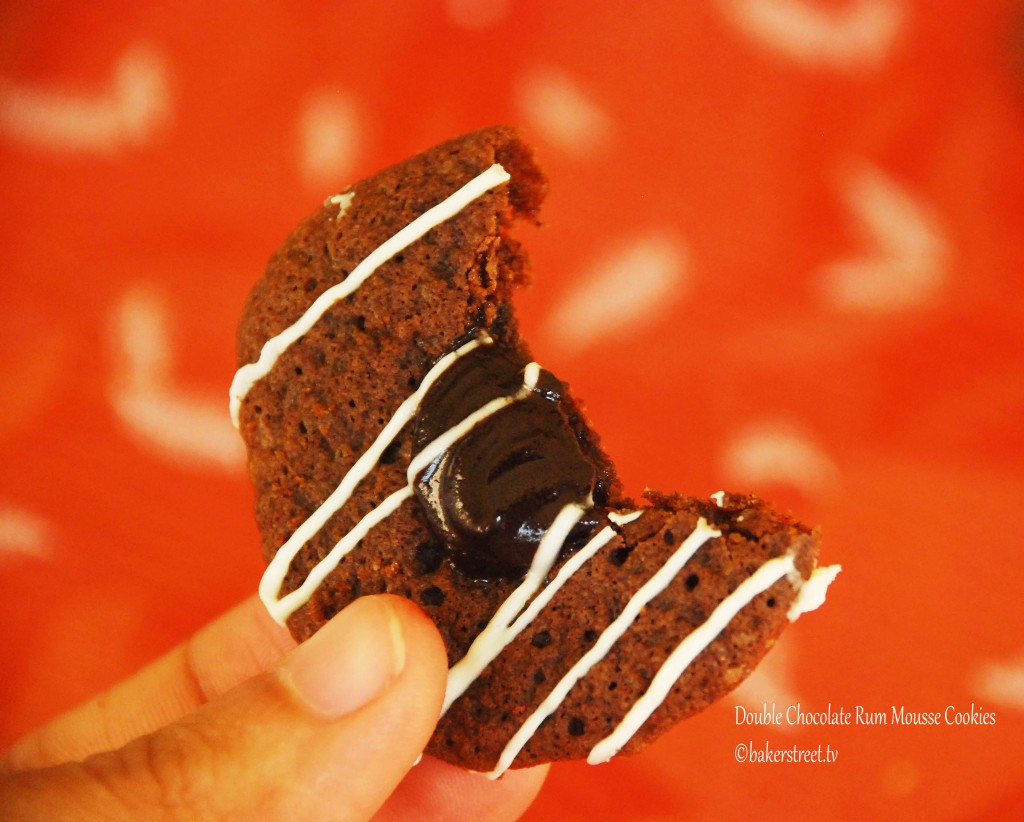 I was extremely happy when the #baketogether team decided to do cookies this month. The original recipe is by Abby Dodge and I've opted for a minimal adaptation. Just a dash of Rum and Coconut make these thin and chewy cookies memorable.
Double Chocolate Rum Mousse Cookies
Author:
Minimally Adapted from Abby Dodge
Recipe type:
Cookies, Dessert
Ingredients
1⅓ (6 ounces) all purpose flour
½ teaspoon baking powder
½ teaspoon table salt
¼ teaspoon baking soda
4 ounces (8 tablespoons) unsalted butter, at room temperature
1⅓ cups granulated sugar
½ cup (1½ ounces) natural, unsweetened cocoa powder, sifted if lumpy
3 large eggs
½ teaspoon pure vanilla extract
½ teaspoon coconut extract
3 ounces bittersweet chocolate, melted
3 ounces bittersweet chocolate, coarsely chopped
2 ounces (4 tablespoons) unsalted butter, cut into 3 pieces
11/2 tablespoon dark rum
Instructions
Preheat the oven to 350°F.
Line 2 or more cookie sheets with parchment or non-stick baking liners.
In a medium bowl, combine the flour, salt, baking powder and baking soda. Set aside.
In a large bowl, cream the butter, sugar and cocoa powder, about 4 minutes.
Add the eggs, one at a time mixing until blended after each addition.
Add the vanilla and coconut extract along with the last egg. Continue mixing on medium until well blended, about 1 minute.
Add the cooled, melted chocolate and mix until just blended, about 30 seconds. Add the flour mixture and mix on low speed until the mixture is well blended, about 1 minute.
Using a 2 tablespoon mini ice-cream scoop, shape the dough into balls and arrange about 1½ inches apart on the prepared cookie sheets.
Bake, one sheet at a time, until the cookies are puffed and tops are cracked and look dry, about 11 to 13 minutes. When the cookies are just out from the oven, make a small, deep well in the center of the cookies using the rounded side of a ½ teaspoon measure or the end of a thick handled wooden spoon.
Let the cookies sit for 5 minutes then transfer them to a rack to cool completely. Fill the cookies and serve immediately or cover and keep in an airtight container at room temperature for up to 3 days or freeze up to 1 month before filling and serving.
Melt the chocolate and the butter in the microwave stirring with a rubber spatula until smooth.
Add the dark rum and set aside until cool and slightly thickened.
Scrap the chocolate mixture into a small zip-top heavy duty plastic bag (alternately, use a pastry bag fit with a small plain tip). Snip off a small piece of one corner and pipe the chocolate mixture into the wells of the cooled cookies. Set aside until chocolate firms up, about 1 hour.
Serve immediately or cover and keep in an airtight container at room temperature for up to 3 days.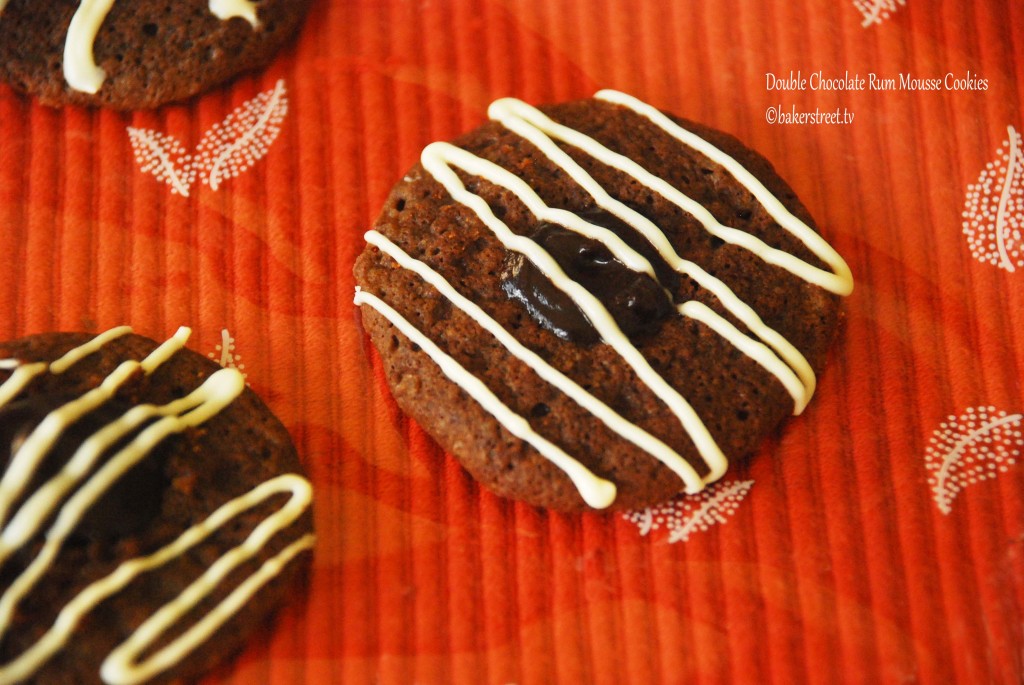 Happy Baking!